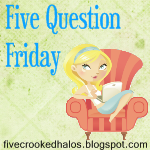 It's that time again! It's 5 Question Friday! Make sure you stop by Mama M's and join the blog spot!

1. What are you most afraid of?
Dying! It's always been a huge fear! I watched my grandma die of liver cancer and it was the most horrible thing. But I mean there is no getting out of it so I have to come grips someday...eek.
It's not the dying so much as the suffering and pain. And the worries about what happens to those I love.
Otherwise, snakes. I can't even look at one on tv. I get panicky and have dreams at night that I'm getting attacked....seriously. So I've decided the reptile house for me on the zoo is a no, no!
2. Do you use a flat iron or curling iron?
Neither one. Just a good 'ol blow dryer.
3. Hands-free or phone to the ear?
Depends what is going on and where I am. I will do both.
4. Do you have a matching bedroom set?
I used too but when we moved my huge big dresser wouldn't fit in our new bedroom so I gave it to my daughter and now I've decided that we need a new bedroom suit. Won't happen for ages but it's a nice dream....
5. Do you believe in the paranormal?
Yes! I posted on MckMama's community sharing my experience. And now I hate that feeling I get in the middle of the night when I get up to use the bathroom. I hate thinking there is someone behind me. Makes the hair on my arms (legs too in the winter...but shhhh!!!) stand straight up!
Whew! I finally got to answer 5 question Friday! I'm normally busy, busy!